Yoga Classes
and Wellness Resources
Hatha & Flow Yoga
 
Move and flow with your breath in sequences based on sun salutations, standing postures, twists, and inversions. Postures are generally held for 3-5 breaths per pose. A great practice to do if you sit a lot for work.
Business Casual Yoga
Do yoga without having to bring a change of clothes. Can be done in a conference room. Incorporates yoga breathing practices, physical postures and meditation for the busy office worker.
Yin & Restorative Yoga
Yin yoga help improve flexibility with poses held for 2 minutes or longer stimulating joint health. Restorative yoga poses are held for 5-20 minutes, helping you find deep relaxation and ease.
Custom Classes
Take your yoga practice to the next level with personalized instruction with a certified teacher. Whether you're recovering from an injury or want to improve your strength, flexibility, and balance, we have experience in teaching students of all ages and all levels.
Meditation Inspiration
The "Elephant Path" or "Elephant and Monk" paintings are known in Nepal as the "Shamatha Thangka," "Way to Heaven," or path of insight.
These are referenced in Culadasa's book The Mind Illuminated.
Pricing: $108 without brocade, $128 with brocade. Free shipping in the U.S.
Contact info@businesscasualyoga.com for purchase details! Books and stones in the pictures below are for display purposes only and not included.
The Mind Illuminated and the "Elephant Path" with the Stages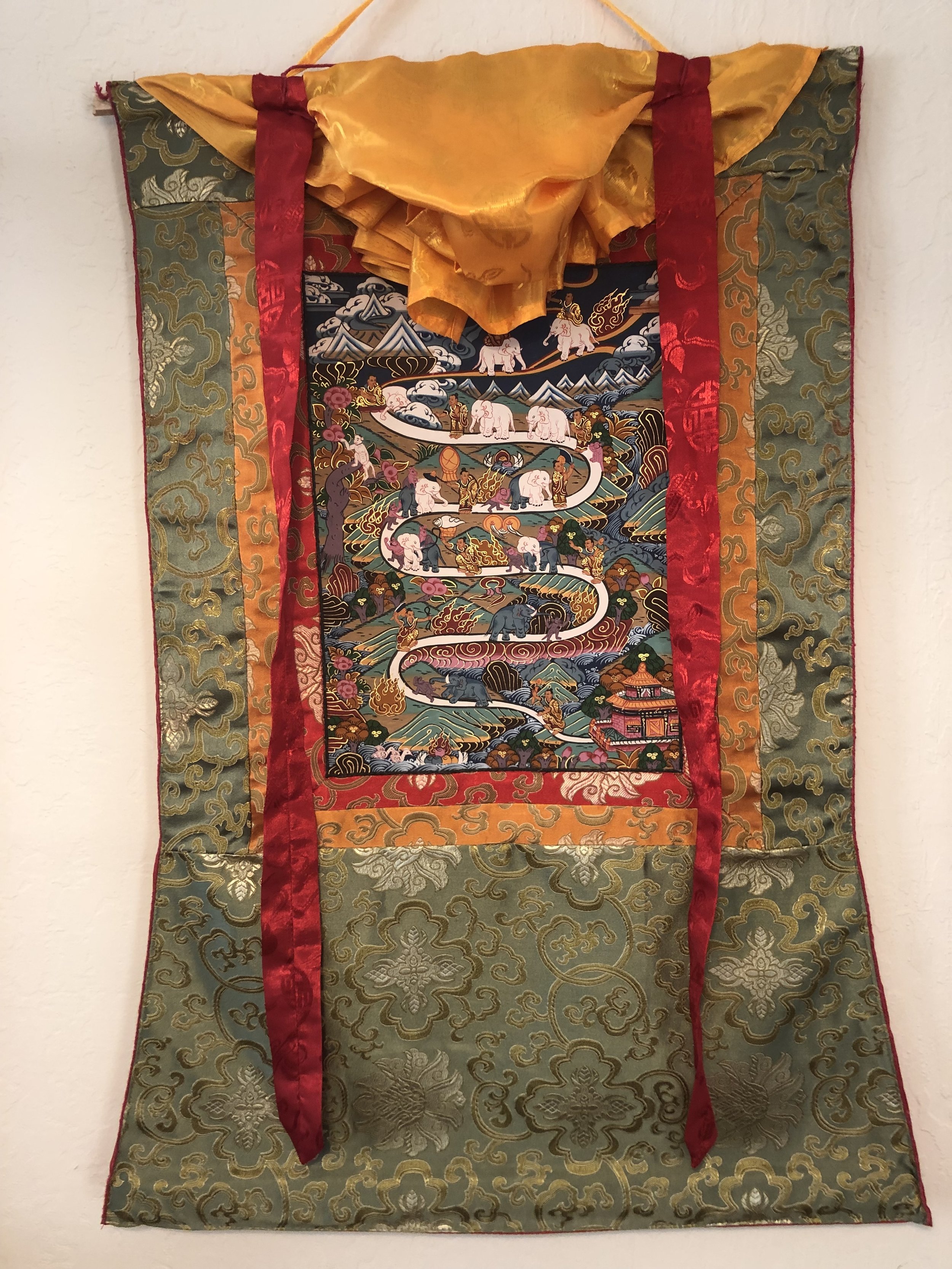 "Elephant Path" Thangka
with Brocade
A painting that is ready to hang on your wall!
Hawaii Retreats
Our 2018 retreat was on the island of Kauai, Hawaii and featured yoga on the beach, scenic hiking excursions, visits to sacred sites and delicious vegetarian food with local fish for omnivores.